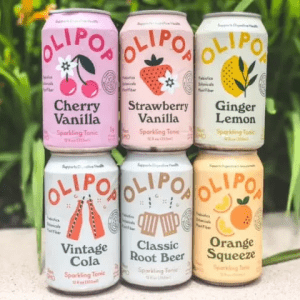 We started managing the OLIPOP affiliate program in 2021 right after they launched in Impact. First steps included optimizing their marketplace profile.
Partners of OLIPOP enjoy exceptionally strong conversion, which translates to strong earnings. All partner and publisher types are welcome to apply to this affiliate program.
OLIPOP Affiliate Program Details
OLIPOP is a refreshing tonic that crafted with prebiotics, botanicals and natural plant fiber to support your microbiome and benefit digestive health. They are on a mission to provide an affordable, delicious alternative to soda that delivers leading edge health benefits to mainstream consumers.
A NEW KIND OF SODA
OLIPOP fully supports their affiliate program, and constantly demonstrates a strong commitment to affiliates by offering payouts up to 20%, regular promos that convert huge, dedicated codes, and product samples for select partners.
Highlights of the OLIPOP affiliate program include:
10% base commission

Sales >$1000/month get 12%
Sales >$5000/month get 15%
Sales >$10,000/month get 20%

7-day referral period
Promo code tracking available (no affiliate link click required)
Product samples available (select partners)
High earning potential