INFLUENCER-FIRST™ Affiliate Program Management
By GravityFed
Posted on July 23, 2018
---
Our three founders have over 40 years of combined affiliate marketing experience working with outdoor brands.
In its purest form, affiliate marketing delivers. But the landscape has changed significantly. In the early days it meant personal websites adding 468x60 banners. Now there are publisher corporations with hundreds of employees.
It goes without saying that sale referral tracking online is a crucial component for any web retailer. But brands new to, or considering, affiliate marketing need to be informed. There can be legitimate risks and liabilities with a program managed incorrectly.
With that we are pleased to announce our INFLUENCER-FIRST™ Affiliate Program Management service, now included with a Black Diamond subscription plan! No technical integration required.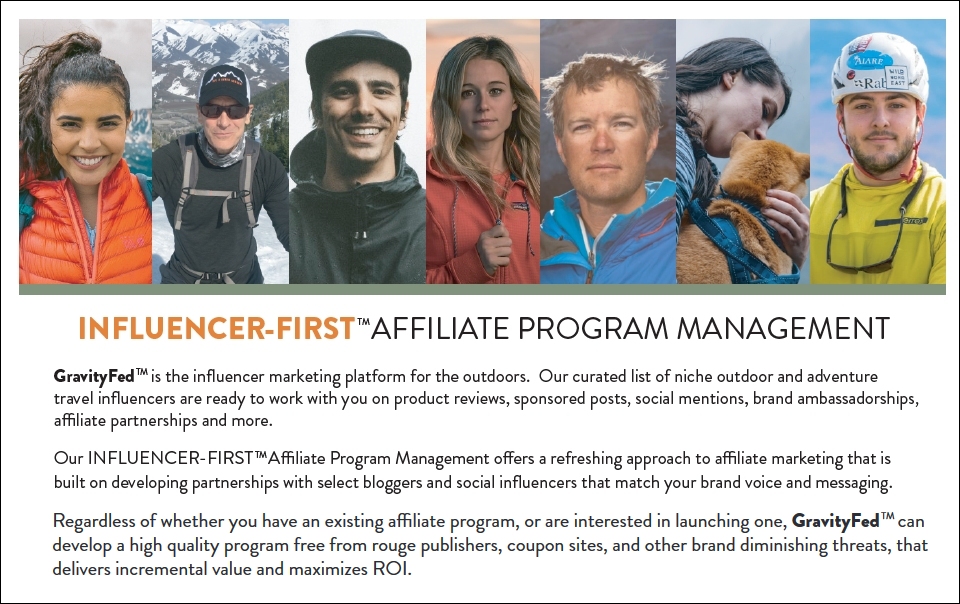 No coupon sites! Affiliate management services brands want.
The Black Diamond plan comes with a dedicated influencer and affiliate manager who will leverage the GravityFed™ platform to access hundreds of bloggers and social influencers, and build (or convert to) an INFLUENCER-FIRST™ program.
Our platform can help facilitate product reviews, awareness campaigns, ambassador discovery, management, and more!
If you have an existing affiliate program that's overrun with coupon sites *OR* you are looking to launch and grow an INFLUENCER-FIRST™ affiliate program, reach out to us today.
---
---