Farmer Dave Profile by William Deleo - added September 20, 2006
Page 1 of 2. Go to Page 2

Dave Van Dame is an Alta skier and a local legend because of his skiing technique. I first saw his unmistakable tracks in the backcountry in the winter of 1992 and thought, "What the hell made those?" It looked as if a snowmobile made about 40 turns side by side. It was not until we got closer that it became apparent the tracks were made by a skier. The snakey grooves were cut side by side and about a foot apart and took up an entire snowfield. I think I was with Matt West at the time and he said, "Oh, that's the work of the snow farmer, he's out here in the backcountry a lot."

From that day on I saw a lot of his enigmatic work in the snow off the back of Supreme, but I saw little of the artist. His tracks were always side by side, every swath in the snow a reflection of the previous one. The tracks were always perfect, flawless; no craters where he lost balance and tipped over and no missed turns. Always off to one side there was a diagonal skin track zig-zagging back up to the top. This I thought, was his signature.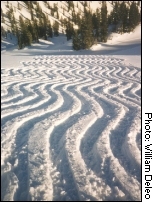 I always seemed to be a day or two behind him and it was not until 1997 I finally saw the man mid-farm. He was far away and looked rather meditative in his Zen-like approach to skiing. I was a little shocked seeing him out there because for so long he was more of a phantom than a real person.

Every so often, while skiing the lifts in-area, a blur of red and blue would stream past in the trees off Wildcat and someone would say, "Look Man, there he is, that's the Farmer."

I never really got a good look at him until we once caught the same Wildcat chair and I said, "You're Farmer Dave aren't you?" He smiled beneath a goggle tanned face and said, "Yes, I am."

He is a quiet and secretive man, an ardent bus rider and an Alta local since 1973. In many ways Van Dame epitomizes the Alta culture of bare bones, no-nonsense skiing. Many who do not know him, and can only speculate, have their own theories about his past and who he is. Some believe he is a burned out university professor who got sick of academia and now just skis all the time. Some maintain he is a reserved and enigmatic hermit who skis 200 days a year. Others say he's just an aging ski bum who comes back year after year, to quietly and methodically farm the snowfields of the Wasatch and ski his favorite runs off the Wildcat lift.

I cornered him one day and asked him if he wouldn't mind sitting down with me to talk about his time skiing in the Little Cottonwood Canyon. He was a little reluctant and a bit wary and I respected this, but we finally sat down in the GMD cafe one day to talk about Alta and clear up some of the mystery.

He looks like he is in his 50's, with a greying beard and a deep, line creased and weathered face. He is very thoughtful and well-spoken, and he speaks quietly. When asked about his past and himself, he holds his cards very close to his chest and tells me very little. He hesitates, looks around, laughs nervously and says, "Some of those things are pretty secretive and I tend to ski by myself a lot. Part of it is because I enjoy going at my own pace and I don't typically stop. When I ski in the morning, I ski until I'm done and then go home."

"I moved here in 1973 and I've been here (in Utah) since then. I've done some extended traveling, so there are about four winters I've been out of the country. Two of the winters I spent in Baja windsurfing and one of them was in the Bahamas on a sailboat and one of them was in the South Pacific."

On his unusual skiing technique in the backcountry, he admits he owes some of his method to an old ski partner of his. "I got started with a friend of mine named Walt Shylock, who is an old timer around here. He doesn't ski the lifts anymore, he stopped probably ten or twelve years ago. We used to go backcountry skiing about 20 years ago. I started with full downhill gear and surplus army skins. We'd go to White Pine or wherever and find a little patch of snow and he'd ski down and I'd ski down and we had a little bit different radius turn so we'd start in the middle and he'd go one way and I'd go the other way and we found out that if you went back to the same place over and over again, you could make the snow last a lot longer that way. If you have a place that has good snow you can go back there day after day after day and you don't use it all up on the first day."

This makes perfect sense, and the result is a mysterious, ephemeral sculpture constantly changing with the wind, sun and snow. "The most I've ever done- one right next to another- is sixty. That was in the East Castle. Where I usually go, about the most I get in is about fifty. I've got one picture that I think is almost fifty runs that are forty turns, which is about 2000 turns."

Click for Page 2, Farmer Dave Profile...