Outdoor Gear Consignment for Gearheads
Have you seen Geartrade's new used gear consignment service? The web's longest running used gear marketplace recently launched a consignment model on their website, where you ship them the gear you want to sell, and they do the rest. If you got a surplus of outdoor gear, apparel, footwear, you name it…become a member, then sell it in their marketplace.
BONUS: You can even make $4 for each product you list for sale through the Geartrade affiliate program. Learn more about the Geartrade affiliate program here. You can sign-up free with no obligations, then anytime someone uses your link (including you) to list gear or buy something you make money. No brainer.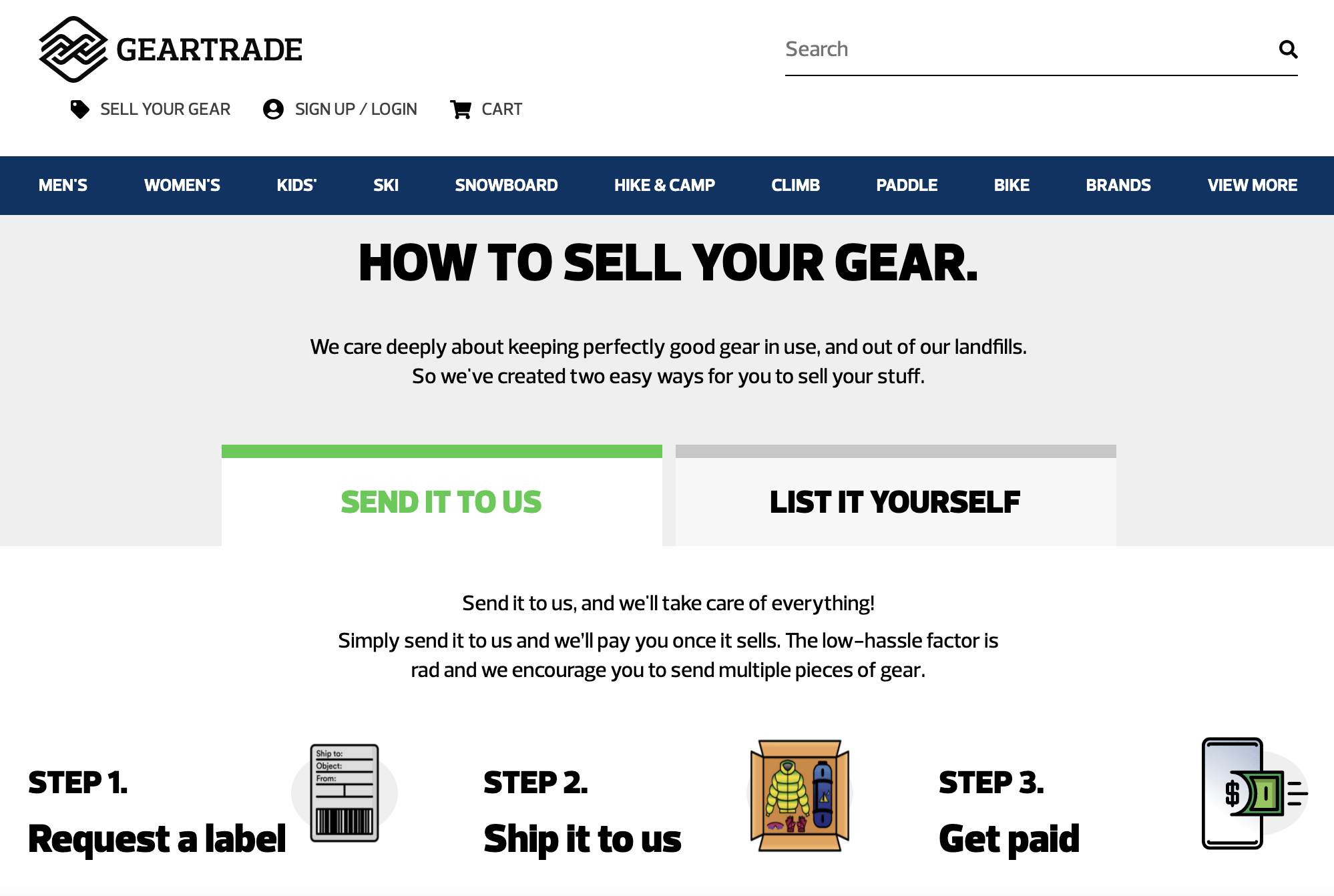 Geartrade Launches New Consignment Model for UnNew Outdoor Gear
On its 21st Anniversary, the outdoor industry's original used gear marketplace launches a new way to sell used outdoor gear…
Salt Lake City, UT (August 4, 2021) – After two decades serving as the go-to marketplace for outdoor enthusiasts to buy and sell used gear, Geartrade has even more in store: a new consignment selling option to make it even easier to sell used outdoor clothing and gear. Now customers can simply send in their gear and Geartrade takes it from there. Designed to reduce seller friction and improve the purchase experience, Consignment makes it easier than ever for Outdoor Adventurists to reclaim their gear closet.
Reclaim Your Gear Closet: Consignment Selling
This continued investment in the experience of Geartrade.com is the result of Geartrade's dedication to advancing a waste-free circular economy. Since 1999, our mission has been to keep people in the outdoors and gear out of landfills. And that mission is thriving—a vast community of users list, sell, and purchase their gear on our platform every day, keeping quality gear and apparel in use while giving their wallet a nice boost. Now, in response to customer input, we have added a consignment selling option alongside our traditional marketplace model to make the selling process as easy as possible.
It's streamlined and easy
Geartrade covers shipping
Geartrade creates the description and photos
Robust pricing analytics included
Sell your gear, your way
In addition to the new consignment selling option Geartrade is excited to announce that we have committed to become Climate Neutral Certified. By partnering with Climate Neutral we will be able to leverage their vast expertise as we start the process of working toward carbon neutrality by first measuring and offsetting our 2020 carbon footprint and then working to reduce future emissions.
For added sustainable goodness, Geartrade has partnered with the noissue Eco-Packaging Alliance Program. Through our partnership with noissue we are able to provide our customers with fully compostable mailer bags and packing tape as we strive to eliminate plastic use. As a partner of the noissue Eco-Packaging Alliance, we have committed to plant trees through One Tree Planted for every order we place with noissue. To date, thanks to the Eco-Packaging Alliance, more than 13,000 trees have been planted worldwide.
Geartrade has always been the secret stash for people to find great deals on gear. Today, with more people considering the impact of their purchase decisions and with the re-commerce revolution picking up steam, Geartrade continues to lead the way on its path to being the go-to hub for the outdoor industry's full circular economy.
####